Developments Include New Media Partners, Free Giveaways From DJ Hero, Onitsuka Tiger, Aerial7, Flud Watches, Orisue Clothing, Rocksmith Tokyo, Acrylik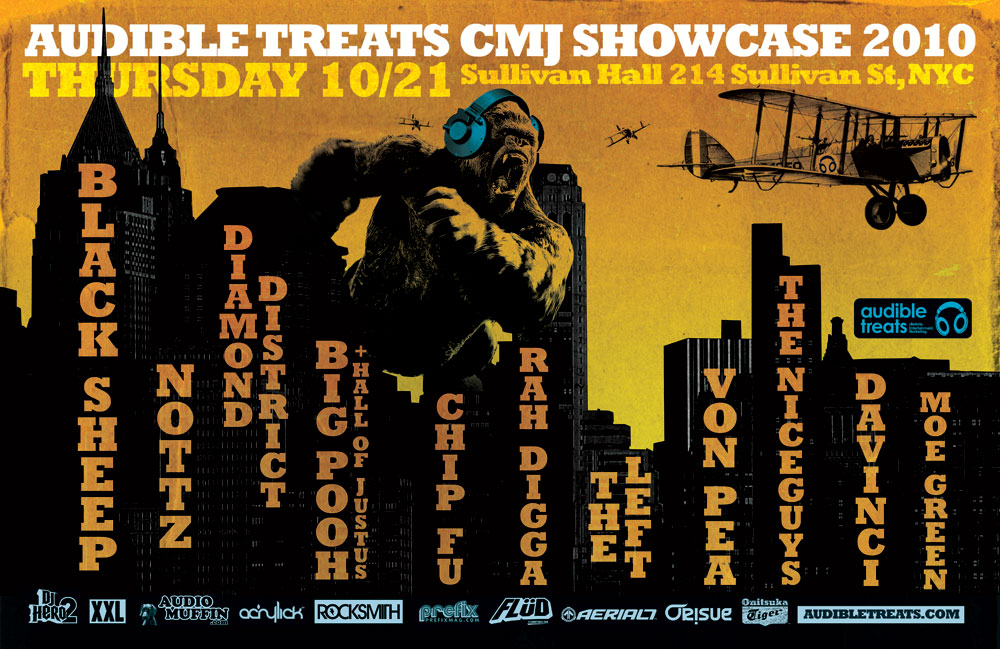 (October 13, 2010 – Brooklyn, NY) Audible Treats is pleased to announce exciting new developments for their official CMJ Showcase on Thursday, October 21st at Sullivan Hall. Updates include the announcement of free on-site gift bag giveaways, media partnerships, and new additions to the roster.
Audible Treats will distribute exclusive, limited edition gift bags to the first 80 attendees, courtesy of a special collaboration with Onitsuka Tiger that began with last year's showcase. Throughout the night, Audible Treats will also distribute a limited number of premium items such as video games, watches, designer clothes, stickers, headphones, magazines, and music. Two lucky attendees will receive a grand prize that includes one copy of the DJ Hero 2 game with controller, one watch courtesy of Flüd Watches, headphones from Aerial7, and clothes from Acrylik, Orisue, and Rocksmith Tokyo. Audible Treats will also be giving away one grand prize gift bag through the Audible Treats Facebook Fan Page (make this a link), with further details to be announced soon.
Audible Treats is also happy to announce that rising Houston group The Niceguys have now been added to the line-up. The showcase will take place at Sullivan Hall in the West Village section of Manhattan on Thursday, October 21st and will feature a number of hip-hop acts, including headliner Black Sheep. Joining Black Sheep and The Niceguys will be Audible Treats clients Nottz, Diamond District, Rah Digga, Big Pooh and The Hall Of Justus (Chaundon, Joe Scudda, Jozeemo), Von Pea, Chip Fu, Moe Green, DaVinci, and The Left.
Audible Treats is also excited to announce media partnerships with XXL Magazine and online heavyweights PrefixMag.com and AudioMuffin.com. Fans who cannot make the trip to New York for the show can check these sites or follow them on twitter for updates.
As an official CMJ-sponsored showcase, the first 50 CMJ badge-holders will be permitted free entry into the show. Tickets, which can be bought online at SullivanHall.com and Ticket Web, are available for $10 in advance and $15 the day of the show. Admission is 18 and up.
About Audible Treats: Audible Treats is a Brooklyn-based entertainment marketing and publicity firm specializing in print and online media coverage. Working closely with the best record labels and lifestyle companies since 2004, Audible Treats creates customized, effective marketing and publicity campaigns for countless clients, ranging the spectrum from Grammy-winners to self-funded artists including T-Pain, Too $hort, David Banner, Anthony Hamilton, Slightly Stoopid, Black Milk, The Pharcyde, and many more. By combining out-of-the-box creative strategies with industry know-how, Audible Treats plays a vital role in assisting clients to meet their goals.
Download the CMJ Mega Mix:

About Our Lifestyle Sponsors:
Acrylick is an LA-based clothing design boutique that stands strong in always having meaning and purpose along with good aesthetics: http://www.acrylick.net
Activision's DJ Hero 2 is an Activision published video game based on turntablism. The game features over 100 songs from numerous genres. The widely popular game was stated by the NPD Group to be the highest-grossing new intellectual property of 2009.
Aerial7 headphones were founded on the idea that sound can be combined with awesome, eye catching design. Their devotion to art, streetwear, action sports and DJ culture inspire their cutting edge style.
Flud Watches was founded in 2007 in an effort to bring the watch back as one of the ultimate accessories. Flud watch's goal is to create unique, fresh watches for the casual and streetwear scene without the pretentiousness or price tag. http://www.fludwatches.com
Onitsuka Tiger is an internationally renowned shoe company which has been supplying athletic footwear since the 1940s. Onitsuka Tiger is celebrating 60 years of Japanese heritage and contemporary design. http://www.asicsamerica.com/onitsukatiger
Orisue Clothing is a southern California based lifestyle-clothing brand specializing in unique and premium quality apparel. Orisue is for those individuals who are driven by their passion and strive towards excellence.
Rocksmith Tokyo is Japanese street couture blended with New York City swagger. The ultimate Mixtape of classic & futuristic cuts, fabrics, music styles and attitudes. http://www.rocksmithtokyo.com