Artist: Aceyalone & RJD2

Album: Magnificent City

Label: Project Blowed

Rating: 4/5

Angel-City Aceyalone and Native-Oregonian RJD2 are resuming their recording partnership on the upcoming Magnificent City, which was originally titled ACD2. It is an upbeat affair: RJD2 does less audio-meandering than a lot of his layered, slow-building numbers (save the instrumental "A Sunday Mystery"), and Aceyalone is sure to get busy, even while philosophizing.
"Just For You" kicks off the record with some grimy horns and a mamba-soul sort of beat. The record keeps up the funk and energy until "Mooore", the fourth joint on the record. Despite a good relationship between the lyrical rhythm and RJ's bleeps, "Mooore" loses its way in an electronic haze. The elctro-madness continues in a sort of apocalyptic Sonic the Hedgehog way (dig?) on "Supahero", a fallen relationship in a burned-out disco kind of song.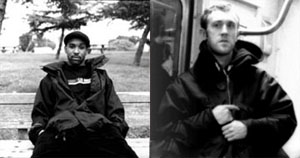 "Highlife", "Disconnected" and "Caged Bird" constitute a cryptic philosophy. "Live by the words on the page" while smoking the Doc-Whack Daddy and keeping to yourself? I haven't quite figured it out yet, but RJD2 kills it on each and "Caged Bird" does contain the best use of Christmas bells since De La Soul flipped a sample from Paul McCarteney and Wings' "Wonderful Christmas Time" on "Simply Havin".
Now, I do not know about Aceyalone's stance on religion. On the Dilated Peoples track "The Shape of Things to Come", Aceyalone stops by to say that he is "not Christian or Catholic or any other religion", and yet, the last portion of Magnificent City is teeming with Biblical references: The track "Heaven" is a reinterpretation and response to The Lord's Prayer or Our Father and "A Beautiful Mine" seems to attribute the world's creation to chaos and humans, specifically taking shots at Biblical figures, but still leaving Jesus with a shred of credit: "took the blame when no one else was havin it". "Elsewhere on Magnificent City, the Lord is invoked and Genesis quoted. Aceyalone may not be a Christian, but then again neither was Jesus. He is a well-read theologian in the least.
Magnificent City is a superb collaboration between two of the underground's heroes. You would be well-adviseed to cop it, but I don't think it drops till February 7th. For now, if you're lucky enough to catch em on the left-as-in-liberal coast, you can see Aceyalone on tour with Living Legends.