2010 BROOKLYN HIP-HOP FESTIVAL EXPANDS TO FULL WEEK

Brooklyn Bodega, producers of the Annual Brooklyn Hip-Hop Festival (BHF) announced the 2010 dates – July 5th- July 11th, 2010.
The new weeklong format features a showcase of independent local, national and international talent, panels, film, theater, and of course Main Day performances, and the Family Day Block Party. All events are held throughout Brooklyn from Williamsburg to DUMBO.
Organizers are especially proud to be returning to the Brooklyn waterfront as it is being transformed into New York's premier park space. "We have been fortunate enough to host the Festival along the beautiful Brooklyn coast line since our second year [2006]. When the word came down that our home, Empire Fulton Ferry State Park was being closed for renovation we began to work closely with Regina Meyer and the good people at The Brooklyn Bridge Development Corporation. I am excited that not only are we returning to the Tobacco Warehouse for our Main Day, July 10th but have also added Brooklyn Bridge Plaza and New Dock Street. This increased space will allow us to produce two separate stages as well as build a large marketplace for our vendors."
– Wes Jackson, Executive Director, Brooklyn Hip-Hop Festival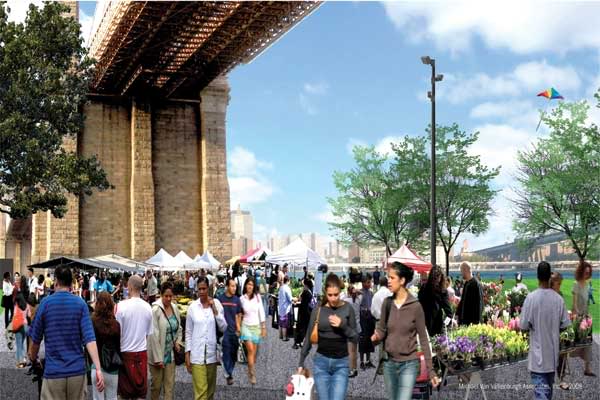 Brooklyn Bridge Plaza at the foot of the Brooklyn Bridge
———
Brooklyn Hip-Hop Festival 2010 Calendar of Events:
· Show and Prove (MON. 7/5) РShowcase of independent local, national and international talent. Public Assembly, 70 North 6th Street, Williamsburg, Brooklyn.
· Bodega Education Initiative (TUES. 7/6) РDay of panel discussions and seminars.
· Hip-Hop Theater (WED. 7/7)
· Classic Hip-Hop Film Night (THURS. 7/8) РScreening of classic Hip-Hop film "Beat Street" as well as shorts from local filmmakers.
· Kickoff Party (FRI. 7/9) РParty to formally welcome Festival goers, past and current artists and community leaders.
· Performance Day (SAT. 7/10) РCulmination of the 2010 programming. Brooklyn Bridge Plaza, New Dock Street and The Tobacco Warehouse РDUMBO, Brooklyn.
· Family Day (SUN. 7/11) РClosing BHF event is a classically, Brooklyn Block party, which focuses on improving the lives of our youth.
More Venues TBA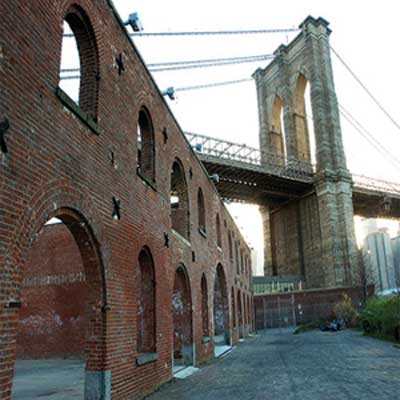 The Tobacco Warehouse at Water and Dock Street, DUMBO
———
Entering its sixth year the BHF aims to highlight Hip-Hop's legacy as an agent of artistic progression, community building and social change. BHF 2010 events will continue to reflect the full range of Hip-Hop culture, which spans music, film, academics, grassroots empowerment and more.